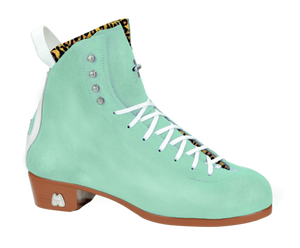 Riedell
Custom Moxi Jack 1 Boot (Floss)
This product is on it's way to the shop. It will be back in stock in ~3 weeks. Buy now to make sure you get one. We currently have this in the stock. Use code CODE to pick this item up and save on shipping!
PLEASE NOTE YOU ARE BUYING A PRODUCT WE DO NOT HAVE IN STORE AND THE LEAD TIME IS ROUGHLY 8-10 WEEKS. 
*additionally changes to a custom Moxi Jack Boot such as a cork heel, banana cream lining etc, are an extra charge
*please send us an email to info@getyourbearingsskate.com for any additional changes and we will invoice you for the remaining balance*
The Moxi Jack combines classic roller skate design with modern materials and features to create a high-performance boot designed to withstand the stresses of ramp, park, and aggressive street skating. The rich suede upper is backed throughout for additional support in all directions. Ankle padding and a soft, genuine Shearling tongue lining make the Jack as comfortable as it is strong, and a lace bar stabilizer helps prevent unwanted tongue rotation while skating. Thoughtful touches such as solid metal hooks, wax-infused laces, and a unique backstay design featuring the signature Moxi "M" round out the Jack and ensure that no detail is overlooked. Stiff and supportive, approximately 10 hours of break-in time is recommended to form the Jack to the shape and contours of your movements.
Features:
Reinforced double split leather suede upper
Moxi Dri-Lex™ lining
PVC unit outsole and heel
Genuine Shearling tongue lining
Unique Moxi "M" backstay with finger loop
Anti-rotational lace bar stabilizer
Ankle padding
Triple reinforced eyestay
Metal hooks

Textured

 

laces
Available sizes:
4-11 Full & Half – Medium width
Note about our leather:
The leather used in our roller skate boots is real, genuine bovine cowhide that is hand sorted and inspected for quality by eye and feel before we purchase and also before we cut it. The hair on the hide varies in coarseness making the texture of the leather vary slightly. When the hide is then cut into pieces, the variations become more obvious after sewn together. This will not change the functionality or feel of your skating experience.
---
More from this collection