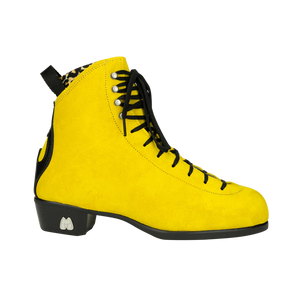 Riedell
Custom Moxi Jack 2 Boot (Pineapple)
This product is on it's way to the shop. It will be back in stock in ~3 weeks. Buy now to make sure you get one. We currently have this in the stock. Use code CODE to pick this item up and save on shipping!
*Please note this item in not in stock and a special order allow 8-12 weeks for delivery*
Modern materials, strengthened reinforcements, and advanced manufacturing techniques make the Jack 2 built for the highest performance maneuvers to withstand the stresses of landing high airs, flips, and gaps on ramps in the skatepark and while street skating. New maneuvers are achieved in the Jack 2 by stabilizing the ankles for balancing in grinds and on rails. The Jack 2 support system offers more confidence jumping onto high obstacles and balancing on low flat rails and down rails, expanding the skater's trick répertoire.
Jack 2 is double-backed with dual density ankle padding and open cell foam for long-lasting comfort. Rich suede and a soft, genuine Shearling tongue lining make the Jack 2 as comfortable as it is strong, and a tongue stabilizer keeps the tightening of the Jack 2 secure and holds the position of the tongue in place. Choice accents such as a black backstay design featuring the signature Moxi "M", solid nickel-plated hooks, and a quality nylon webbing finger loop round out the Jack 2, ensuring the integrity and popular features of the original Jack stay intact. The stiffest and most supportive of any Moxi model, the Jack 2 requires approximately 20 hours of break-in time to form it to the shape and contours of your movements.
Features:
Reinforced double split suede leather upper or made vegan for no additional charge
Increased reinforcements for improved stability, precision, and power
Leopard print Dri-Lex® lining
Black PVC unit outsole and heel
Genuine Shearling tongue lining
Signature black Moxi "M" backstay with finger loop
Anti-rotational lace and tongue bar stabilizer
Dual density ankle padding
Triple reinforced eyestay
Solid machined, nickel-plated hooks
Black textured polyester laces (90-in)
---
More from this collection