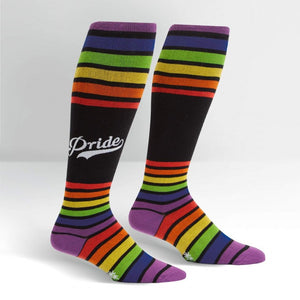 Sock It to Me
Team Pride Socks
Sock It to Me fulfilled their number one customer request and developed proprietary technology to create their awesome designs on stretchier socks—up to 21 inches in circumference without distorting the graphics. Their custom built machine creates a higher thread count knee high that won't fall down, no matter your leg size.
These new STRETCH-IT Team Pride Wide Calf Socks are the perfect pair to wear to Pride this year—and they're much more than that, too. Pride only happens once per year, but your own personal pride is an everyday thing that you carry wherever you go. These socks let you tell people who you are, and show them that you support the ongoing fight for equality. Whether you're a member of the community or an ally, STRETCH-IT Team Pride Wide Calf Socks deliver an important and necessary message.
69% Cotton, 28% Polyester, 3% Spandex. Made in S. Korea.
Sock It to Me threads are certified by OEKO-TEX® Standard 100, which means they leave out harmful chemicals to keep your skin safe and happy.
Approximately fits up to women's shoe size 8.5-14.5 and men's shoe size 7-13.
---
More from this collection