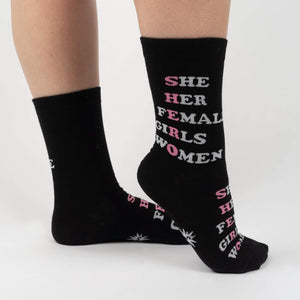 Sock It to Me
SHERO Women's Crew Socks
We currently have this in the stock. Use code CODE to pick this item up and save on shipping!
In a world of uncertainty and patriarchy, sometimes you don't need a hero but, rather, a shero. What is a shero you ask? A shero is a female who is admired for her courage, outstanding achievements and/or noble qualities. She is someone that is inspiring to other females and serves as a reminder that they are capable of anything. These SHERO Crew socks are an easy to way to be discrete about how super you are or roll up your pants and unleash your inner shero!
66% Cotton, 32% Polyester, 2% Elastane. Made in Korea.
Our threads are certified by OEKO-TEX® Standard 100, which means we leave out harmful chemicals to keep your skin safe and happy.
Approximately fits women's shoe size 5-10 and men's shoe size 3.5-8.5.
Fiber Content
66% Cotton / 32% Polyester / 2% Elastane
---
More from this collection