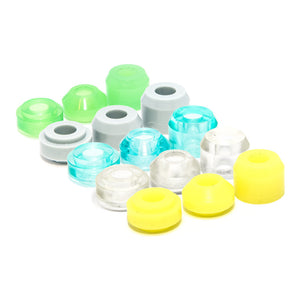 Roll-Line
Roll Line Urethane Cushions
We currently have this in the stock. Use code CODE to pick this item up and save on shipping!
Pricing is for One Half (1/2) Set or Four Suspensions.
    4 Upper – Large Suspensions OR
    4 Lower – Small Suspensions (Step or Cone. Step cushions are recommended for figures and loops. Cone are recommended for freestyle and dance). 
COLOR                 HARDNESS
Clear Green             ExtraFlexible
Gray                       Flexible
Clear Blue               Medium
Clear                       Hard
Clear Yellow             ExtraHard
The UPPER Suspension is the one nearest to the Skate Plate and
      is the LARGER tube shaped Suspension
The LOWER Suspension is the one nearest to the Skating Surface and
      is the SMALLER cone shaped Suspension
---
More from this collection