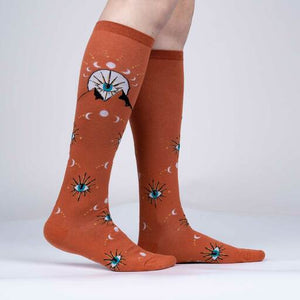 Sock It to Me
Mystic Mountain Knee Socks
Mountains do wonders for the soul. They provide fresh air, beautiful views, and a chance to reconnect with nature. There seems to be an almost mystical quality to them, as if they bring us closer to Mother Nature. The moon, the stars, the sun all create incredible tapestries best visible from a mountain. Wear our Mystic Mountain Knee High Socks and feel those mystical qualities everywhere you go.
These socks glow in the dark! Hold them up to light or walk outside in the sun before turning off the lights to watch the special thread glow.
Made in Korea.
Our threads are certified by OEKO-TEX® Standard 100, which means we leave out harmful chemicals to keep your skin safe and happy.
Approximately fits women's shoe size 5-10 and men's shoe size 3.5-8.5.
Fiber Content
62% COTTON, 36% POLYESTER, 2% ELASTANE EXCLUSIVE OF ELASTIC
---
More from this collection