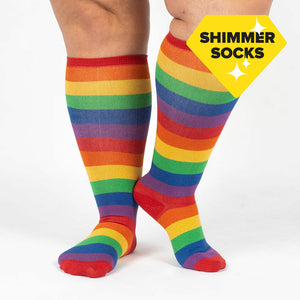 Get Your Bearings Skate Shop
March With Pride Wide Calf Knee High Socks
We currently have this in the stock. Use code CODE to pick this item up and save on shipping!
We fulfilled our number one customer request and developed proprietary technology to create our awesome designs on stretchier socks—up to 21 inches in circumference without distorting the graphics. Our custom built machine creates a higher thread count knee high that won't fall down, no matter your leg size.
These might be the perfect socks to wear to Pride. But that doesn't mean you can only wear them to Pride. Wear them to the park, or wear them to the club. Wear them every day because you take your pride everywhere with you. Our eye-catching March with Pride Rainbow Shimmer Knee High Socks are like a joyous shout from the rooftops telling the world that you believe in equality for all. And they're part of our Shimmer line, made with metallic threads that sparkle, so they'll have you shining brighter than ever before!
---
More from this collection