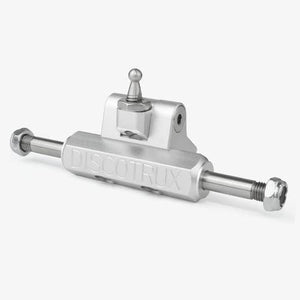 Bont
Discotrux Roller Skate Trucks
The DiscoTrux is a roller skate truck created specifically for street and park skating. Designed by Bont ParkStar 'Disco', he has combined his many years of rolling skating with his creativity for problem-solving.
The DiscoTrux is a new unique design for roller skate trucks, made of solid aluminum with interchangeable parts, specifically the option to use wide 70mm or extra wide axles 100mm. 

Discotrux also comes with alternative length pivot pins, to ensure the adjustment can be made to fit many versions of roller skate plates across brands. However, some cushion modification may be needed if you are using a plate that does not have a 20-degree kingpin.  

The small pivot ball ensures the pivot pin will action, with great response.
(Note: Discotrux must be used with hard plastic pivot cups. The small pivot ball will otherwise pierce through any rubber pivot cup). The adjustable pivot pin also allows for any slide block mounting bar to be introduced and to maintain standard plate bushings.

Why invest in wide skate trucks? Wide trucks are ideal for street and park skating as they provide greater stability for building speed and transitioning from flat to vertical surfaces.

DiscoTrux is designed to suit the Bont Tracer plate. They are compatible with other brand plates that have hard plastic pivot cups. If you have any questions or queries please contact discotrux@bont.com 
Truck width:

 

70mm 
Axles:

 

8mm 

Axle overall length from end to end:

 

132mm 
NOTE: The latest version of Bont Discotrux has the axle poles fixed with pushed pins. This change keeps the axles secure and means that they can not fall out. When changing wheels, you may feel some wiggle on the axle, which is normal. Tested by our Parkstar team, this wiggle is not noticeable once you tighten your wheels and will not impact your skating. Also, once pressure is applied to the truck, the axle will not move. 
---
More from this collection