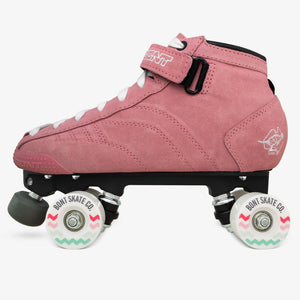 Bont
MyBonts Custom Prostar Boot Only
This product is on it's way to the shop. It will be back in stock in ~3 weeks. Buy now to make sure you get one. We currently have this in the stock. Use code CODE to pick this item up and save on shipping!
** Due to the high demand the semi-custom Prostar boots currently take approximately 10-12 weeks to manufacture and ship.**
 * This model can't be ordered in narrow or wide but the standard width of this model is slightly wider than the standard width on the size guide.

Mybonts is the latest and greatest way to customize your Bont boots. We have been creating custom designs since 1975. Match your team colors, add your name, go wild!
The Bont Prostar Roller Skate Boot is a boot designed to be light, responsive, and heat moldable. A boot designed for you. 

The thermoplastic in the heel allows you to mold your boot with a hairdryer to obtain a custom fit in under 10 minutes. This is especially good for skaters with skinny or wide ankles. 

The boot is made with suede and features replaceable rubber bumper toe protection, an adjustable velcro top strap, and a rear heel loop to put your laces through.

This package comes mounted with the Prodigy or Tracer plate and choice of outdoor BPM or Glide wheels or skate park Flow wheels and bearings. 
Features
Base: Fiberglass
Outer skin: Suede
Liner: Microfiber
Boot height: High
Heel rise: 6mm
Innersole: EVA with fabric
Heat moldable: Fully heat moldable base utilizing epoxy thermoset resin allows you to mold your boot with a hairdryer to obtain a custom fit in under 10 minutes. Do not put in the oven to heat mold. 
Padding: Memory foam
Size options: 1 - 12.5
Fit options: Standard, these do not come with semi-custom fit options
Vegan: No
---
More from this collection