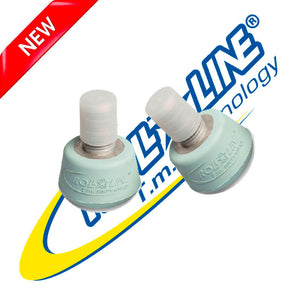 Roll-Line
Baby Super Professional
We currently have this in the stock. Use code CODE to pick this item up and save on shipping!
40mm Diameter Baby Super Professional Inline and FreeStyle Toe Stops in Natural Rubber
Thread Types Available:   Metric Only
Colors Available:    Sky Blue
Abrasion:   5 Star
Grip:    4 Star
Resiliency:   5 Star
The 40mm Roll-Line BABY SUPER PROFESSIONAL specifically designed for the Linea plate is also the BEST Toe Stop Available for ALL Levels of, FreeStyle Skaters, Dance Skaters (for Original or Free Dance). The 40mm BABY SUPER PROFESSIONAL Toe Stops is available from SkatesUS.com . The BABY SUPER PRO Toe Stops have all of the very good characteristics needed in Toe Stops, Abrasion, Grip, and Resiliency. The BABY SUPER PRO Toe Stops is the smaller version of the very popular SUPER PROFESSIONAL Toe Stops and it share with it all the features in Abrasion, Grip, and Resiliency.
The Roll-Line BABY SUPER PRO Natural Toe Stops is available in Metric Threads Only. All Roll-Line Frames have Metric Toe Stop Threads.
---
More from this collection